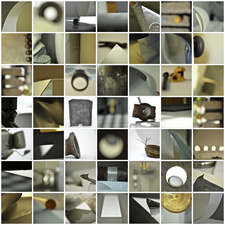 Domestic Mysteries I
2014
48" x 48"
Type-C prints on Fujicolor Crystal Archive paper, mounted on 3/8" MDF
---
---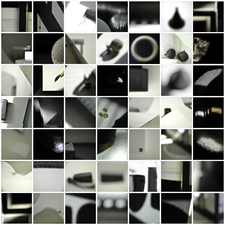 Domestic Mysteries III
2015
48" x 48"
Digital prints on aluminum Dibond

---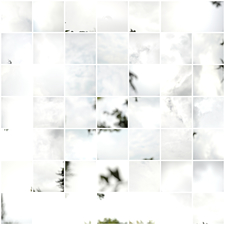 Domestic Mysteries IV
2016
48" x 48"
Dye sublimation prints on aluminum

I spent a number of weeks lying on my couch last year, recovering from foot surgery (ice, elevate, repeat). Gazing out the French doors at the winter sky and the remainders from winter's blustery winds, I began to think about capturing the thick luminosity of the morning fog just before the sun breaks through. The result? "Domestic Mysteries IV."


---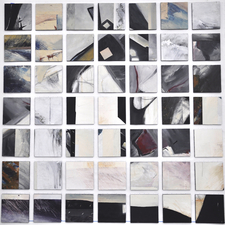 Phoenix Rising
Phoenix Rising, 2016, 48" x 48"
(49 pieces of 6" x 6" canvas on MDF)

The impulse to frugality and sustainability manifests in my studio practice, whether it's using found and re-purposed objects, or recycling paintings and drawings. This make|do attitude, coupled with a fascination with how chance can reveal unexpected relationships, informs the challenge I set for myself in Phoenix Rising: giving new life to old work. First, I removed the canvas from the stretcher bars of several small paintings. Then, I cut them into pieces, mostly squares. The fun was finding relationships between disparate pieces and configuring these into a single new piece.


---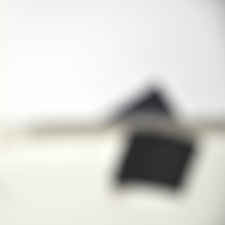 BDD
While printing drafts of the photographs for "Domestic Mysteries IV", I noticed that they were composed of tiny dots reminiscent of Ben Day Dots. I had been looking for ways to release the energy inherent in the grid and this seemed to fit the bill. I photographed and re-photographed the drafts and then began a gentle manipulation – mostly cropping and enhancing the contrast – to further reveal the essential nature of the energy that I had managed to capture in the grid. Sometimes I added an element to the visual field – a line, a wedge, a block – whose solidity served to counter the effervescence of the dots. The result is a series of images that quietly animate and energize the space they occupy, with a presence that belies their modest size.

---
---